Celebrate Pride with your St. Paul's family this July. Throughout Pride Week, we will share God's Good News with all God's people, all of whom were marvelously made and are wondrously loved.
Light up the Cathedral – An Interfaith Pride Service: Persist with Faith, Persist with Pride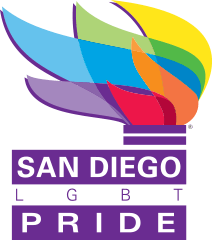 Wednesday, July 11, 7:00 pm
Join elected officials, interfaith leaders, and San Diego's LGBT community at this official San Diego Pride 2018 event. To kick off Pride Week, we will witness the Cathedral's annual ceremonial rainbow lighting.


This is the first "Persist With Pride" event of Pride week. This service will feature preacher Nicole M. Garcia, a transgender candidate for ordination in the Evangelical Lutheran Church of America. Nicole's journey of faith persisted so that she could discover God's love for her as the woman she was always meant to be.
The service will also include performances by the San Diego Gay Men's Chorus, the Women's Chorus, dance performance by San Diego Creative Arts Project, and presentation of the Light of Pride award by Pride Executive Director Fernando Lopez. The service will be broadcast live on the web here.
Art 4 the Heart
The same night as the Interfaith service, please make sure to enjoy a charity art show and auction benefiting Being Alive, The Queen Eddie Youth Fund, and St. Paul's Youth Fund.
Pride Parade and Dance Party
Please join the Diocese as we walk together in the parade. We'll meet at the Cathedral at 8:30 a.m. to walk to the parade's staging area. (Limited transportation from the Cathedral is available upon request. Email Susan Jester at jesters@stpaulcathedral.org.) We will meet near the flag pole at University and Normal to participate in the Interfaith blessing of the parade at 10:30 a.m. The blessing begins at approximately 10:45a.m. We will then walk together back to our place in the procession/staging area, so make sure to be there by 10:30 to meet up with the group- look for the FEARLESS LOVE shirts! A street eucharist begins at our staging area at 11:15.
We will wear our "Fearless Love" shirts, available for order here (if you are not a Cathedral parishioner please contact your local congregational leader for ordering information).
After the parade, please celebrate with us in the Cathedral's parking lot with a BBQ and festive music!
Pride Mass
Sunday, July 15, 10:30 a.m., Cathedral
Celebrate the God who made each of us and loves us for who we are in special Pride-inspired worship service!
This year we welcome Jayne Ozanne, a well-known Church of England lay-person with a long history of working for the full inclusion of LGBTI persons at all levels of the church. Jayne will join us preaching at both the 8:00 and 10:30 services, as well as in the Forum at 9:00 in the Great Hall.